The Norwalk Historical Commission and Norwalk Historical Society
presents
Three Fodor Farm Exhibitions
Curated by: Elizabeth Pratt Fox
"The History of Fodor Farm"
Explores the history of ownership and use of the property from the time the house was built in 1802 until today with an emphasis on the Fodor family, the longest owners of the property.
"Saving Fodor Farm"
Tells the story of the grass roots movement to stop the farm from being developed into a subdivision of 48 houses. The exhibition traces the story through the plans for the development, the rallying of the Save the Farm group, the city taking the land through eminent domain and the success of open land proponents, historic preservationists and the city to develop the site for all the residents of Norwalk.
"Fodor Farm through the Lens of Dan Lenore"
Features photographs of the farm taken between 2006 and 2007 by the Norwalk photographer Dan Lenore. Intrigued by the remains of a once active farm, he documented the farm before the transformation into a park. Working in both black and white and color, he captured the serenity of the site with its empty house and barn, fields and trees.
In addition, objects from the Norwalk Historical Society and the City of Norwalk collections have been installed in both the house and the barn.
- Fodor Farm buildings only open for special events -
Venue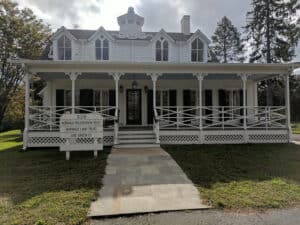 Fodor Farm, 328 Flax Hill Road, Norwalk, CT
About Fodor Farm
Fodor Farm is public space run by Norwalk Parks and Recreation. The site features a community garden, a barn venue for events and culinary demonstrations, a historic homestead, green house and orchard. More information can be found at www.norwalkct.org.