Exhibits at the Norwalk Historical Society Museum
Norwalk Collects: Celebrating Four Historic Collections
Presented by Norwalk Historical Society • Norwalk-Village Green Chapter of the Daughters of the American Revolution (DAR) • Lockwood Family • City of Norwalk (formerly Norwalk Museum)
Curated by Elizabeth Pratt Fox • Design by Scott Kuykendall
What is a collection? People often put together collections that remind them of their past, record milestones of their loved ones or document their travels. Sometimes photo albums, scrapbooks, shoe boxes or shelves hold these memories and they are passed from one generation to another. Some collectors give their collections to institutions such as libraries and museums. These gifts allow us, the visitor, to travel back into the past. History museums, such as the Norwalk Historical Society, collect items that tell the stories of the city over time.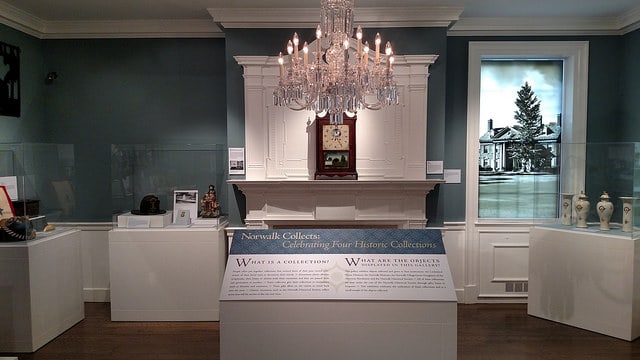 What are the objects displayed in this gallery? This gallery exhibits objects collected and given to four institutions: the Lockwood House Museum, the Norwalk Museum, the Norwalk-Village Green Daughters of the American Revolution and the Norwalk Historical Society. All of these collections are now under the care of the Norwalk Historical Society through gifts, loans or bequests. This exhibition celebrates the unification of these collections and is a small sample of the objects collected. 
Elizabeth (Betsy) Pratt Fox has assisted institutions with exhibition planning and implementation, institutional assessments and planning and collection assessment. Prior to forming her consulting company in 1997, she worked at the Yale University Art Gallery, Connecticut Landmarks, Wadsworth Atheneum and The Connecticut Historical Society. Her projects have won awards from the Connecticut Humanities Council, Decorative Arts Society and the Association for the Study of State and Local History. The Connecticut League of History Organizations selected her to present several full-day workshops on curatorship and collection care and management and exhibition development. She served on the Board of the Connecticut League of History Organizations. She is a Mentor for the StEPS-CT program, an advisor for the Peer Advisor Network at the Connecticut Office of Culture and Tourism and chairs the Cheshire Historic District Commission. She holds a B.F.A. from the University of Oklahoma and a M.A. in Art History from Tulane University.
"Woodbury: Zimri Moody, Cabinetmaker"
Connecticut Explored Magazine, Summer 2016
CLICK IMAGE TO VIEW

Grating The Nutmeg – The Podcast Of Connecticut History
Episode 9, release date: June 7, 2016
At minute 30, listen to a lively discussion with Bill Hosley and Betsy Fox about their favorite small towns from the summer issue of Connecticut Explored.
The Norwalk Historical Society Museum is located at 141 East Avenue, Norwalk, and is open Wednesday-Saturday, Noon-4pm, and during special events and by appointment for Self-Guided Tours. Enter from Norwalk City Hall parking area. The Museum is in the red brick house with blue double front doors.
For more information on how to book a self-guided tour, please visit the NHS Event Calendar page.