Explore the Norwalk Historical Society's library of Virtual Lectures. Topics range from Revolutionary War history to modern day history and everything in between! All lectures were recorded via Zoom.
Connecticut's Changing Coastline
Presented by Guest Presenter Patrick J. Lynch. The talk will focus on the "recent" glacial geologic history of Connecticut and its coastline over the last 25,000 years, and how the combination of the underlying geology, glacial history, and later human history all influenced what we see on the Connecticut coastline today. Lynch will also discuss the ongoing issues of natural habitat loss and restoration, climate change, and the impact of climate change on Connecticut's shores. The lecture will conclude with a question and answer session.
The Origins of Norwalk, Ohio and the Firelands
Guest presenter: Henry Timman
Huron County Ohio and Norwalk, Ohio historian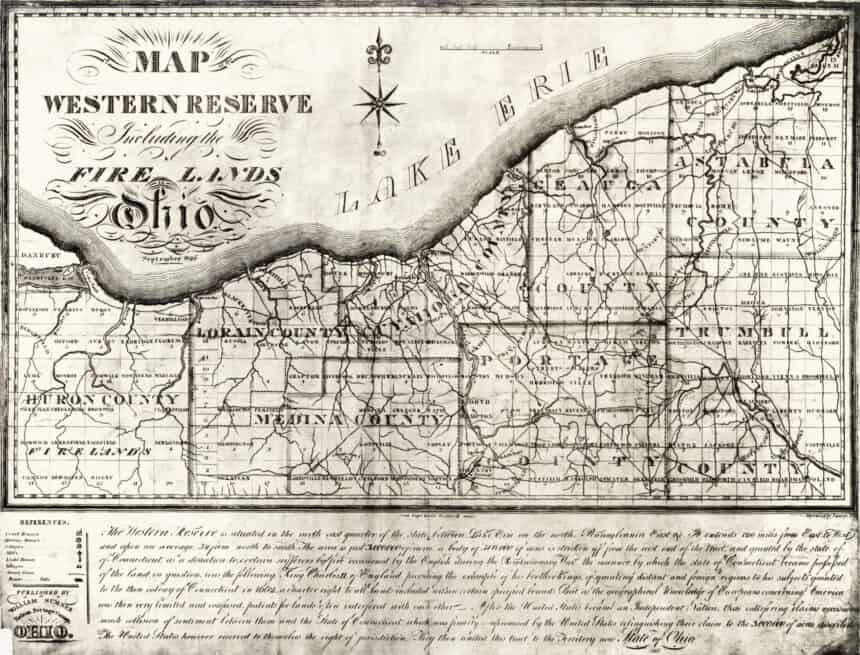 Norwalk, Danbury, Fairfield, Groton, Litchfield, New Haven and New London are all towns and cities in Connecticut and Ohio. Just a coincidence… not at all. These towns are all located in an area of Ohio known as the Firelands and have a connection to the Revolutionary War.
The lecture concludes with a question and answer session.
Sheldon's Horse, 2nd Regiment Light Dragoons – Washington's Eyes & Watchdogs of the Highlands
Guest Presenter: Eric Chandler
Norwalk Historical Commissioner and Norwalk Historical Society board member.
Join Eric Chandler as he explores the role Sheldon's Horse, 2nd Regiment Light Dragoons played during the American Revolution. Many people are unaware that the first commissioned cavalry in the history of the United States was formed in, and consisted largely of men from Connecticut. Commissioned December 12, 1776, Sheldon's Horse is credited with playing a key role in helping to win the American War for Independence.
A Virtual Chat with Mary E. Woolley - Activist and Educator
Guest Presenter: Dr. Darla Shaw – professor emeritus of education and women's studies at WCSU. 
Dr. Shaw brings Mary E. Woolley to life during this virtual presentation. Learn about Woolley's remarkable life which began in South Norwalk, CT.
After becoming the first female student at Brown University and a professor at Wellesley College, Woolley became the 11th president of Mount Holyoke College from 1900 – 1937. Under her direction, the college made great strides in aligning the curriculum to the changing needs of society.
Throughout her life, Woolley was awarded twenty honorary doctorate degrees from the country's most prestigious universities. Later in life, Woolley became a peace activist and proponent for abolishing child labor.
The History of Dr. Wadsworth's Sanitarium​
Presented by Norwalk Historical Commissioner and local researcher, Holly Cuzzone. Dr. Alvin DeWitt Wadsworth's sanitarium in South Norwalk ran from 1904 until his death in 1941. This lecture covers new information now available from contact with the schools he attended, maps, NewsBank digitized articles recently available from the Norwalk History Room at the Norwalk Public Library as well as personal conversations with the doctor's living relatives.
Director of the Norwalk-based Documentary "The Sexy Six: A Story of Lifelong Friendship"
In the interview, learn about Kathy's inspiration for the film, where she got the fantastic Norwalk footage, and more behind-the-scenes stories of her heart-warming documentary, "The Sexy Six: A Story of Lifelong Friendship."
To learn more about the documentary, visit: http://thesexysix.com/
Norwalk Quilt Stories: Virtual Talk with Lizzy Rockwell
Lizzy Rockwell's illustrated talk will dive into the story behind her newly published children's book, The All-Together Quilt. Her talk will also explore Norwalk quilt stories as she discusses her work with Peace by Piece: The Norwalk Community Quilt Project, the inspiration for her book. Members of Peace by Piece chime in about their wonderful experiences with the group.
To learn more about Lizzy Rockwell and her book, The All-Together Quilt visit: https://www.lizzyrockwell.com/ and https://www.thealltogetherquilt.com/
Oystering in Norwalk, CT: A Chat with Photographer Bill Whitbeck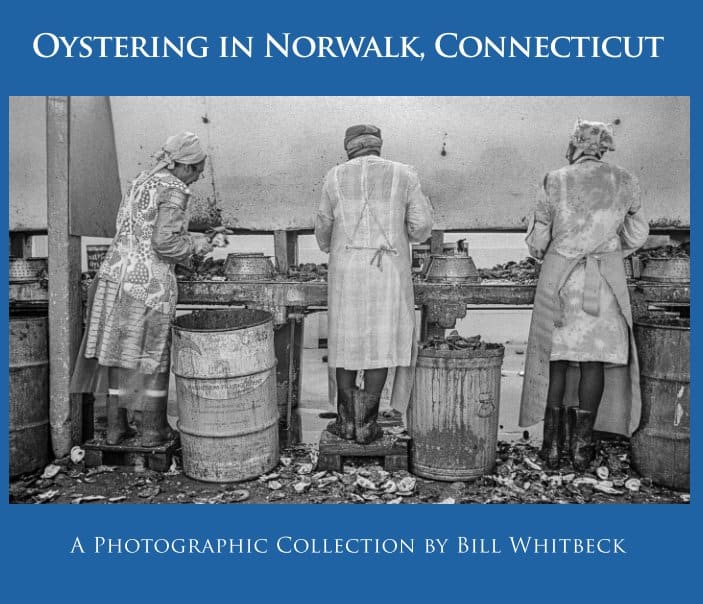 This illustrated talk highlights photographs from Bill Whitbeck's book, Oystering in Norwalk, Connecticut A Photographic Collection, as well as rarely-seen images from his personal collection. Explore a brief history of oystering in and around Norwalk and learn of Mr. Whitbeck's reminiscences about growing up in East Norwalk and his love of oystering, his relationship with the Bloom family, and stories about his old photography business that was housed in the Radel oyster building. Learn how his waterfront studio allowed him to photograph every aspect of oyster and clam harvesting in the waters surrounding the Norwalk Islands.
To learn more about Bill Whitbeck and his book, please visit https://www.blurb.com/b/10472959-oystering-in-norwalk-connecticut
Honoring the Silent: Documenting African American & Native American History in Connecticut
Explore the Witness Stones Project with Founder and Executive Director, Dennis Culliton. In less than four years, 11 schools, and over 2,000 students have engaged in the Witness Stones curriculum, learning about the history of slavery in the North. https://witnessstonesproject.org/
Learn about "Uncovering Their History: Africans, African Americans and Native Americans in Hartford's Ancient Burying Ground, 1640-1815", from project director, Dr. Katherine Hermes. This project was commissioned by the Ancient Burying Ground Association to find the names and information about the people of African and Native descent buried in Hartford's oldest cemetery. https://www.africannativeburialsct.org/
Conservation Norwalk: A Present Day History
This lecture includes guest presenters from Norwalk's leading conservation organizations including the Norwalk Land Trust, Norwalk River Valley Trail, Norwalk River Watershed Association, Norwalk Tree Alliance and Oak Hills Park Nature Advisory Committee. Discover each organization's history in preserving land and open space in Norwalk, as well as their past, current, and future endeavors.
During this talk you will meet former Norwalk resident and suffrage leader, Elsie Hill, who is brought to life by Western Connecticut State University professor emeritus of education and women's studies, Dr. Darla Shaw. The focus of her talk will be on Elsie during the suffrage movement, Elsie's work for the Equal Rights Amendment and her connection to Alice Paul.
Women in the American Revolution: Putting the 'Her' in Heroics
Presented by Norwalk Historical Commissioner and local researcher, Eric Chandler. Learn about some of the women who risked their lives, their fortunes and their sacred honor to lift the yoke of British control of the 13 Colonies. Women who are missing from our history books, their stories as soldiers and spies left untold. There are many tales of courage to be revealed about these largely unsung heroines of the American Revolution.
The Story of the Nathan Hale Memorial Fountain
Guest presenter: Lisa Wilson Grant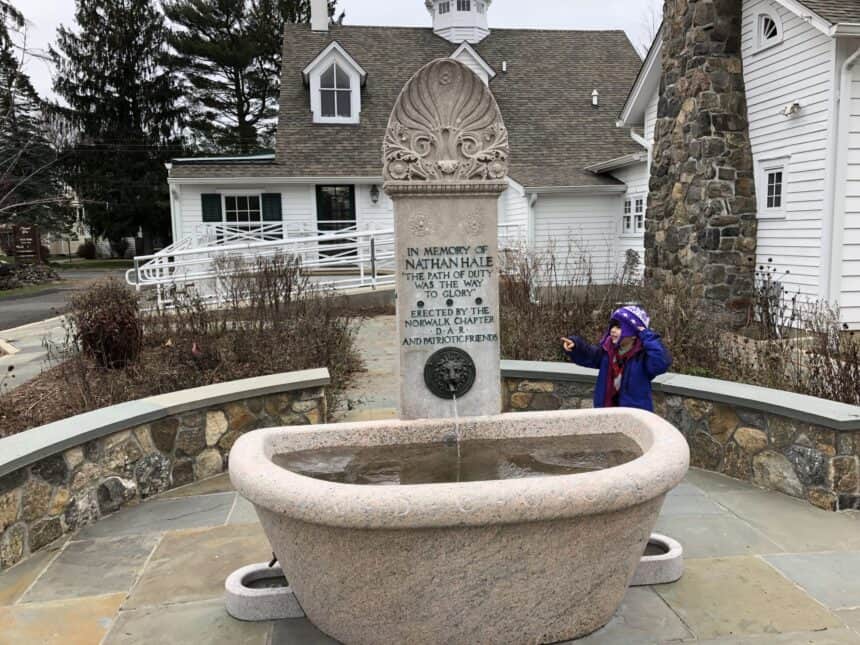 This lecture explores Nathan Hale's connection to Norwalk, the installation of the McKim, Mead & White designed Nathan Hale Memorial fountain by the DAR in 1901, the story of all the places the various parts of the fountain traveled to, and the perseverance of Lisa Wilson Grant to track down the missing fountain parts and return them to Norwalk for installation at Fodor Farm.
Classic Cars: the History of the James Melton Museum
Guest Presenter: John J. O'Leary
Learn about James Melton, 'America's Favorite Tenor' and former Weston, CT resident, who assembled one of the country's prized collections of antique cars, and in 1948 opened the James Melton Museum of Antique Automobiles just off the Merritt Parkway in Norwalk, CT. Presenter John J. O'Leary shares the history as well as unpublished photos of Melton's famous museum, highlighting the vast collection of unique automobiles, as well as dive into a family connection O'Leary has to Melton's former friend and personal car restorer, Gus Reuter.