Norwalk Historical Society Museum
(Administrative offices)
141 East Avenue
Norwalk, CT  06851
The Museum front entrance and parking is at the Norwalk City Hall (125 East Avenue) parking area. The Museum is located in a red brick house with double blue front doors, next to the Norwalk Health Dept.
Hours: Wed- Sat: 12p – 4p
Closed for holidays and special events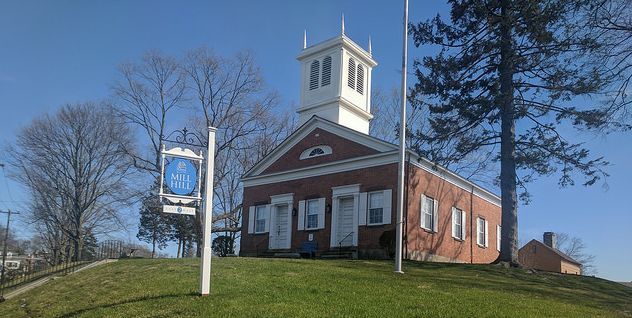 Guided Group Tour – Mill Hill Buildings
Guided tours for groups and organizations are available (minimum of 6 people required). Please contact us to discuss a variety of guided tour options for groups and organizations - 60 minutes to ½ day. Group tours (2 – 12 people/tour) are $75 for basic 60 minute tour.
Available May – September.
Mill Hill Historic Park
2 East Wall Street
Norwalk, CT  06851
Located on top of Mill Hill overlooking the head of the Norwalk Harbor.  At this location you will find: 1) The 1835 Town House (Meeting House), 2) The 1826 Downtown District Schoolhouse (Little Red Schoolhouse), 3) c.1740 Governor Fitch Law Office, 4) Mill Hill cemetery (3rd oldest in Norwalk) and 5) a Colonial Herb garden.
For more information regarding Mill Hill CLICK HERE.
Hours
The grounds are open year round Sunrise to Sunset.
The Mill Hill buildings are open during special events and by appointment for group tours.