Preserving and Observing:
 Two Centuries of Norwalk Art
Curated by Sophia Gevas • Photography by Tod Bryant
A
s a part of its continuing celebration of Norwalk's heritage, the Norwalk Historical Society presents this survey exhibition of the city's significant art collection. This exhibit includes paintings and works on paper drawn from the four separate collections that comprise the Norwalk Collection: the City of Norwalk, the Lockwood family, the Norwalk Historical Society and the Norwalk-Village Green Chapter of the Connecticut Daughters of the American Revolution (DAR).
Presented here, in the recently restored 1835 Town House at Mill Hill, the featured works were created by artists who lived and worked in Norwalk. The works focus on depictions of people and places that provide a visual documentation of the city's history.
The exhibition is a survey presented in groupings of Portraits, Still-lifes, Scenes of Working Life and Nature, each capturing significant aspects and insights about city life through the ages.
It is presented Salon Style – named for a pre-Revolutionary French style exhibition – which hangs works densely, both higher and lower than a traditional single row of works at eye level, which allows for a greater number of works to be shown.
The art of the 20th century is particularly well represented as the result of two disparate occurrences. In the early 1900s, a gathering of artists in the Silvermine area of Norwalk, New Canaan and Wilton formed an artists' colony which led to the creation of the Silvermine Guild of Artists. Many prominent artists from New York City and abroad were drawn by the easy access to New York City, as well as the compelling topography and landscapes of the area.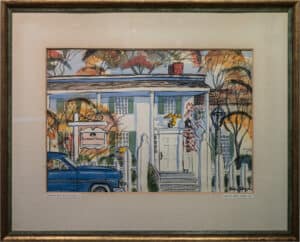 This group's influence continues today at Silvermine Arts Center. Shortly thereafter, during the Depression, the U.S. government created the Works Progress Administration (WPA), a part of the New Deal, which employed thousands of artists to create realistic and uplifting depictions of American life. A significant number of WPA works are in Norwalk's City Hall and some of the artists' sketches of large-scale works were donated to Norwalk's collection by descendants of the artists.
Also featured in this exhibit are numerous works that depict subjects of historical importance including the city's famous oyster industry, local notable landmarks, and the ocean, waterways and islands on Norwalk's eastern border. These elements drew the attention of a variety of artists and are the focus of many of these painting and drawings.
Altogether these works provide a view of life in Norwalk over the last two centuries.