T
hese artists, Alexander Rummler, George Avison and Augustus Smith Daggy, as well as many others represented in this exhibition, were part of the early Silvermine Guild of Artists.
Artist Solon Borglum came to the Silvermine area to work around 1908 and many artist friends accompanied him, fostering a local creative community. Nestled into the corner of New Canaan, Norwalk and Wilton, there were many inexpensive places to live and beautiful natural surroundings. Its practical appeal was the proximity to New York City, where many of them exhibited their works and/or worked for the advertising industry to support their families.
The artists' "Knockers Club" met weekly to critique each other's work; they also taught classes, held exhibitions, wrote and performed plays, and held musical events. Borglum's sudden death in 1922 was the impetus for formalizing the group into the Silvermine Guild of Artists. Today, the Silvermine Arts Center is approaching its 100th anniversary.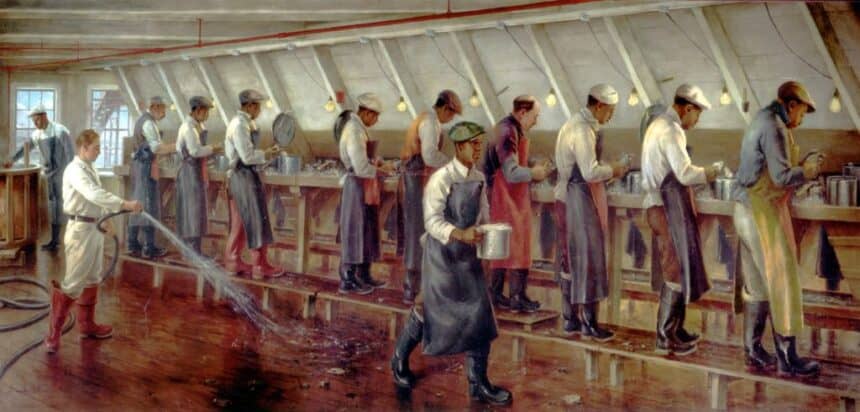 Most of the works on this page are by Alexander Rummler, who was one of the artists who benefited from the Works Progress Administration (WPA) during the Depression.
This government program put thousands of artists to work between 1935 and 1941 – in exchange for a weekly stipend – creating public murals and works of art for schools, libraries, post offices and public buildings. While most of the works have been lost or destroyed, the City of Norwalk has one of the largest existing collections of WPA works.
These Rummler sketches are studies for several murals that are located in Norwalk's City Hall and the Maritime Aquarium. The Shucking Oysters text panel references the Blue Point Company, which was active during Norwalk's reign as "oyster capital of the world."