Calf Pasture Beach, 1936 | Mural, oil on canvas, 22'7″ x 6'3″ | Alexander Rummler, 1867-1969 | City Hall, Norwalk
The paintings here give examples of how important recreation and entertainment was to the WPA artists as they, too, aimed for work/life balance amidst the climate of the Great Depression.

On a local level, Norwalk, Connecticut, WPA artist Alexander J. Rummler painted his 22'7" x 6'3" mural, "Calf Pasture Beach." He created this study on the left prior to completing his finalized mural. From this study, Rummler's passion for outdoor fun and sun is apparent. What do you think? Once you realize that he staged part of the scene at the Norwalk waterfront on Calf Pasture Beach, using many of his family and friends, does that make you think differently about this piece of art?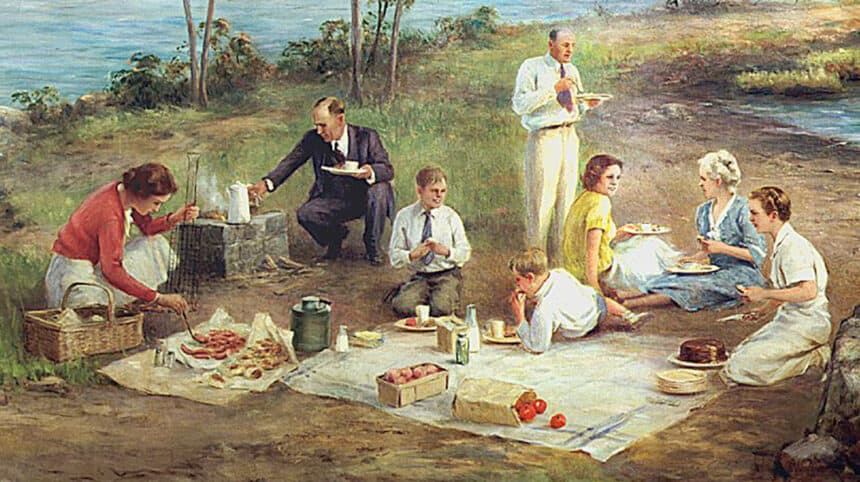 Included in the mural shown here, from left to right are: Mr. and Mrs. Price D. Jones (daughter and son-in-law), grandsons Phillip and Thomas, Superintendent of Schools Dr. and Mrs. Jacobs, wife Maria and granddaughter Alice B. Jones.
Did you ever wonder how Calf Pasture got its name? The area was used by 17th century settlers for grazing cows.
Recreation in Harlem, 1937 | Georgette Seabrooke-Powell, 1916-2011 | Mural, oil on plaster | Harlem Hospital Center
On a regional level and to illustrate a different view of recreation and entertainment in an urban environment, Georgette Seabrooke-Powell's mural above, "Recreation in Harlem," created in 1937, was intended to bring happiness and a sense of familiar surroundings to ill children in Harlem Hospital's Children's Pavilion. As an African-American artist, she felt strongly that the people in the murals should represent the black community that the hospital served.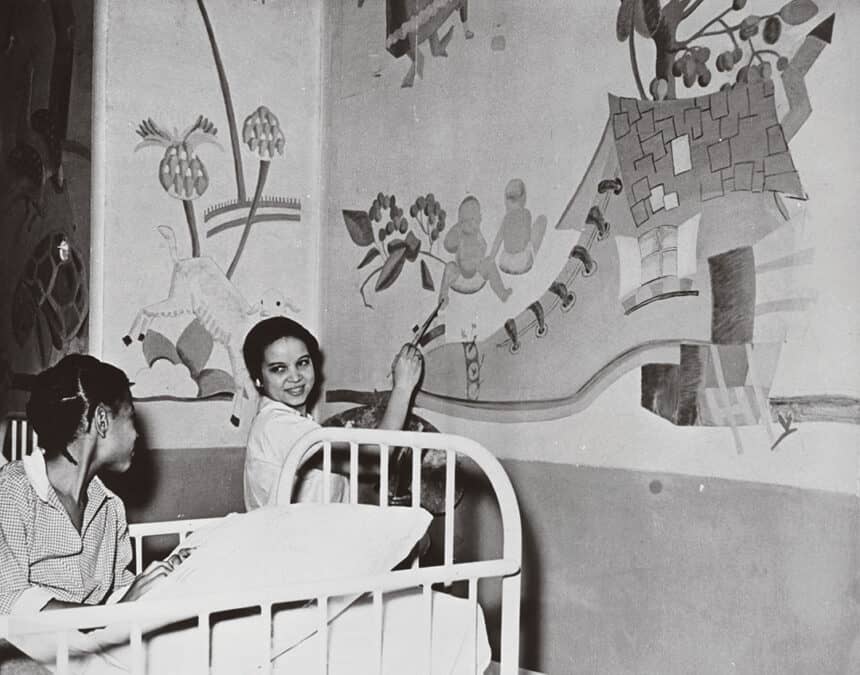 The mural is a reproduction of the famous mural she painted, nearly 20-feet wide, which was restored in 2012 and reinstalled at Harlem Hospital's WPA Pavilion in New York City. Does the mural give you a sense of happiness and play?